The California Cat Center offers extensive salon services for your cat. We provide a quiet and calming environment in which to be pampered. Spa treatments are by appointment to allow us to focus on each cat's individual needs.
Quiet environment

Grooming by appointment

Natural conditioning shampoos & conditioners

Tub grip guards specially designed for cats

Quiet, reduced-stress drying enclosures

Groomers who care for your cats like their own

Ear cleaning, nail clipping and shampooing included in Bath & Brush services

Selective shaving available for long-haired cats

Veterinarian sedation or anesthesia grooming for frightened or fractious cats (Call for individualized price quotation)
Vaccination Requirements: Current on Feline Rabies vaccine
Hotter days are on the way and your kitty companion is likely already shedding his or her winter coat. If your kitty seems hot, or is tangled/matted and you'd like to help make them more comfortable as the summer approaches, a lion cut may be just what the doctor ordered!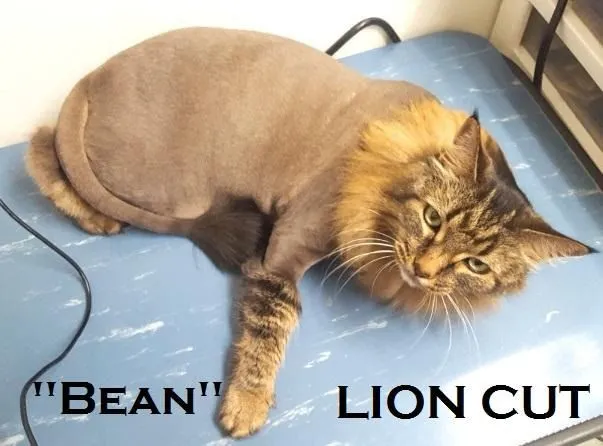 A lion cut can help reduce shedding and make it easier for your feline friend to maintain their coat and prevent matting, not to mention keep them a few degrees cooler as temperatures rise.

Service

Price

Service

Price

Lion Cut
$85
Bath & Brush:
Long-Hair
$75
Kitten Clip
$95
Bath & Brush:
Medium-Hair
$65
Happy Cat
(Tooshie Shave)
$20
Bath & Brush:
Short-Hair
$55
Shed Control
$20
Soft Claws
(Includes Nail Trim)
$28
Flea Control
(Topical)
$20-$25
Nail Trim
$18
Flea Control
(Oral)
$10-$20
De-Matting
(Groomer To Determine Severity & Price)
$25+
New Groom Client Form and Questionnaire Here