CALIFORNIA CAT CENTER & WEST VALLEY PET CLINIC

ARE LOOKING FOR VOLUNTEERS!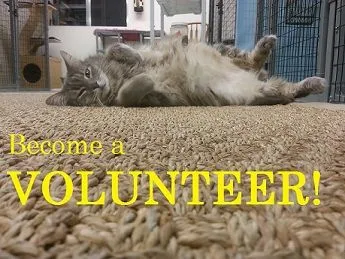 It's easy to become a volunteer at California Cat Center
We are looking for volunteers who want to make a difference in the lives of the animals in our care. We need friendly, outgoing and personable volunteers to assist the public and work with the staff in our boarding facility and/or at our veterinary hospital . To become a volunteer with us, you must complete an application and submit it to our office.
You may send you application three ways:
Fax to 866-780-2287
Mail to: Attn: Volunteer Program, California Cat Center 7048 Sophia Avenue Van Nuys, CA. 91406
It can take up to 8 weeks to process your application, the volunteer coordinator will contact you to set up an orientation date. Please contact our Volunteer office after that period if you have not heard from us.
Attending an Orientation
Attending an orientation is mandatory. It is crucial that you arrive on time and ready to absorb all the important information regarding our policies, procedures and programs; learn about basic animal behavior, and gain a thorough understanding of the many ways you can approach & handle a animal.
Volunteer Time Commitment
Once you have attended an orientation, you can set your own schedule. You may volunteer during the hours the operation. Depending on the level of experience, we may have additional volunteer hours for student currently needing service hours for school.
Age Restrictions/Community Service Hours
Due to insurance restrictions, all volunteers must be at least 18 years of age (sorry, no exceptions).
Call 866-780-CATS or email us at [email protected] and join our team to not only gain knowledge and experience, but to also make a difference! We recognizes the contributions made by our volunteers and are committed to providing a volunteer program that offers challenging opportunities where volunteers can apply what they have learned in school and through our instructions and advance in their veterinary education.