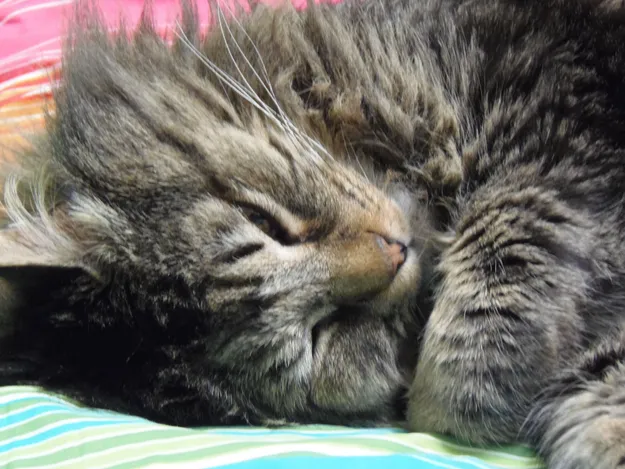 The next best thing to you. Care for your cat in a luxury, cats-only environment with care and attention by cat lovers with advanced training, education and a true desire to create a "home away from home."

- Extra-large "condos:" Your choice of 60-, 80-, 90-, 145- or 150- cubic-foot condos.
- 2 Family suites with extra cage-free options available.
- Daily wellness checks by caring staff; veterinary services available at the Center, arrangements must be made in advanced.
Rates per night, per condo:
One cat in one condo: $50
Two cats in shared condo: $85
Three cats in shared condo: $115
Additional cats in shared condo: additional $25 each per night, per cat
Private Suite: Up-to 4 cats $150, (subject to availability) Additional cats in shared private suite: additional $25 per night, per cat
Medication Policies
Medications will be provided by the cat owner in the original container, appropriately labeled with the veterinary information and directions. Dosages will not be changed from the veterinary instructions without written approval from the prescribing veterinary doctor/veterinary office.
Medications: There is a $10.00 administration fee for all medications prescribed by a veterinary doctor; i.e., pills, gels, trans-dermal gels, suspensions, injections, etc. This fee is per medication per administration.
Subcutaneous Fluids: There is a $25.00 administration fee for subcutaneous fluids administration. This fee is per administration.
Boarding Policies
California Cat Center welcomes all healthy cats over 6 months of age, either spayed or neutered & up-to-date on their vaccinations. We also welcome cats with special needs, including diabetics, those with kidney disease, those on medications and FIV positive cats.
Long-Term Stays: A 10% discount is given for stays of 21 days or longer. A 20% discount is provided for stays of 60 days or longer when the first month is paid in advance and the remaining balance can be charged monthly or according to the reservation extension.
Vaccinations: All cats must have current FVRCP and Rabies vaccines no less than 10 days or more than three years from the date of check in. We require kittens to have completed a series of three vaccines before boarding. Adult cats should be vaccinated at one year of age and thereafter every three years. Please provide proof of vaccine, which may be e-mailed to [email protected] or faxed to (818) 225-7165. Elderly cats with adequate vaccine history may be boarded with a letter from their veterinarian excusing the vaccine.
Credit Cards: All reservations must be confirmed by credit card and secured at the time of check in by credit card authorization. An authorization does NOT charge to the card, but authorizes California Cat Center to charge the card when services have been rendered, up to the amount of the authorization. Although debit cards may be used, please consult your bank for policies concerning record keeping for authorizations. Generally, debit cards used for an authorization require the customer's bank balance to have adequate funds for the authorization at the time of both the authorization (check in) as well as the payment (check out). Or all Charges incurred by owner shall be payable upon (check in) in full.

Check Out Time/ Late Check Outs: Like any hotel, check out is before 11:00 am. Check outs made after 11:00 am are considered late check outs and an additional fee applies. The late check out fee is equivalent to an another nights stay.

Check In Time: Last check in should be in a 1 hour before we close. (We are closed for lunch from 1pm-2pm). If it's your 1st time boarding with us it may take 15 to 30 minutes to check in. We will require you're Driver License/ID and Credit Card to take a copy as it is our policy.
Payment Option: Debit Card or Credit Card; American Express, Discover, MasterCard & Visa. Checks for current customers only. We are CASHLESS, This means we do not accept cash at all as a form of payment. Gratitude is welcome in the form of cash for (Groomers Only).
Holiday Season: Our holiday season starts November 15 through January 15th, during this time, we have a minimum stay requirement of no less than 3 nights.

Cancellations: All reservations from January 16 through November 14 may be cancelled without penalty up to 48 hours before the check-in appointment. Those cancelled after that time will be charged a fee equivalent of one night boarding for each cat cancelled. Holiday cancellations for reservations between November 15 and January 15 may be made 10 days or more before check-in date without penalty. Cancellations thereafter will be charged for a three-night stay.
Abandonment: California Cat Center is bound by California law concerning abandonment of pets. Civil Code Section 1834.5 reads:

Notwithstanding any other provision of law, whenever any animal is delivered to any veterinarian, dog kennel, cat kennel, pet-grooming parlor, animal hospital, or any other animal care facility pursuant to any written or oral agreement entered into after the effective date of this section, and the owner of such animal does not pick up the animal within 14 calendar days after the day the animal was due to be picked up, the animal shall be deemed to be abandoned. The person into whose custody the animal was placed for care shall first try for a period of not less than 10 days to find a new owner for the animal, and, if unable to place the animal with a new owner, shall thereafter humanely destroy the animal so abandoned.

If an animal so abandoned was left with a veterinarian or with a facility which has a veterinarian, and a new owner cannot be found pursuant to this section, such veterinarian shall humanely destroy the animal. There shall be a notice posted in a conspicuous place, or in conspicuous type in a written receipt given, to warn each person depositing an animal at such animal care facilities of the provisions of this section.
Holidays: We closes for the following holidays:
New Year's Day – January 1st
Memorial Day- End of May
Independence Day – July 4th
Labor Day – First Monday in September
Thanksgiving Day – 4th Thursday in November
Christmas Day- 25th of December
No exemptions owner needs to pick up next day and are responsible for fees.